FOR THE FUTURE
OF OUR PAST
FOR THE FUTURE
OF OUR HISTORY
AltNova: Craftsmanship & innovation
RESTORATION & CONSERVATION OF HISTORICAL METALWORKS
Restoration of both structural and ornamental architectural metalwork (iron gates and fencing, balconies and window guards, anchors in masonry, bespoke replicas of architectural hardware …) is our main activity: after an initial assessment, we make our own inventory of all composing parts and number them, if needed we carefully take apart the construction in the reverse order of the initial installation, we repair in our works or in situ and make replicas of missing parts or parts that are too far gone.  We have our own blasting and thermal spray equipment.  Altnova has an in-depth understanding of the appropriate painting techniques for ancient metal work. 
STONE CLEANING & RESTAURATION
Old metal works are in most instances anchored in a stone pillar, pedestal or plinth.  We assess the source of the deterioration first.  The treatment of the fractured natural stone requires a global approach with knowledge of both disciplines: metal and stone.  Altnova understands the difficult cohabitation of stone and metal due to their disparate expansion following temperature changes.
NEW METALWORK
AltNova designs, manufactures and places custom gates, balconies and fences from various art styles like Art Deco, Art Nouveau, Louis XIV, XV.  With our knowledge of traditional blacksmithing and joining techniques, we recognize more details on old photos, on the basis of which we manufacture (partly) disappeared ironwork truthfully.  
HISTORICAL INVESTIGATIONS & FINCANCIAL AIDS
We enable our customers to pass on valuable ironwork to their future generations. In order to do so, we are interested in the origin and history of their metalwork.  With our own on-going historical searches for old foundries & metal factories, we can complement our customer's historical research.
Altnova has a good knowledge of the various financial aids available at a regional level regarding the restoration of metalwork and natural stone.Altnova has a good knowledge of the various financial aids available at a regional level regarding the restoration of metalwork and natural stone.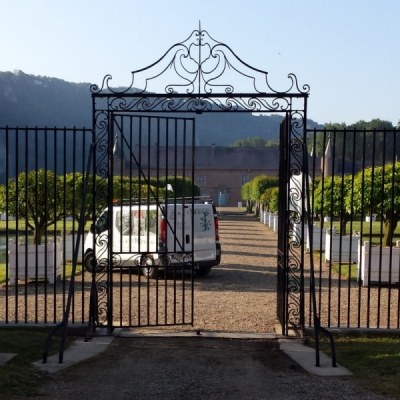 Contact Us
Are you interested in a price quotation or do you have questions about your project? Feel free to contact us by mail or phone.
our team
We are a group of experienced and passionate crafstmen.  We have our own blasting & thermal spray equipment, drawing and study office,  we complement your historical searches. l
innovative craftsmanship
With an in-depth knowledge of traditional blacksmithing, casting and joining techniques, we keep an open eye to new technologies such as 3D imagery and milling.
CUSTOMER FRIENDLY
We come out and study what needs to be done prior to our estimate.  We listen to your needs and answer your questions.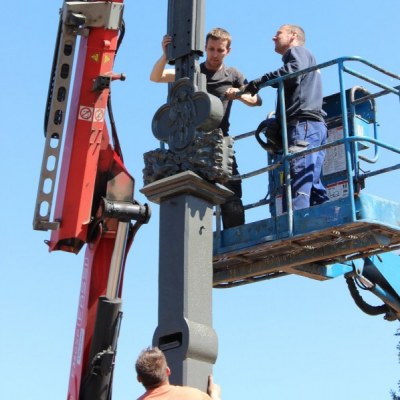 Frequently asked questions
We have answered the three most frequently asked questions about AltNova. If you have another unresolved question please contact us.
Our founder Mark Peeters has published a second version of his first book, the content has been completely rethought and restructured. The paperback is now available for purchase in Dutch and French. The English title of the book would be 'Forged Metal & Cast Iron Restoration: Answers to 10 Frequently Asked Questions'. A description and more information is available here.
The book offers an answer to the 10 most frequently asked questions our customers have about restauration. Is it best to work on the spot or bring back the metalwork to the workplace? What does a typical restauration job look like? What is the best type of paint for my fence? Take a look at the complete table of contents in a free example of the paperback.
What kind of clients does Altnova work with?
AltNova works for both individuals and public constractors.
What kind of jobs does AltNova excecute?
AltNova heeft zich gespecialiseerd in renovatie en nieuwbouw van smeed- en gietijzer. Hierbuiten is AltNova ook sterk aanwezig op vakgebieden zoals natuursteenwerken, hang- en sluitwerk, hedendaagse metaalconstructies en hout-en kunststofbewerking. Bekijk al onze vakgebieden
hier.
are any financial aids available ?
Most financial aids are organised on a regional level in Belgium.  Learn more by dropping us a mail  
contact us.
Curious about what our customers are saying about us?
Contact us
Are you interested in a quote or do you have any questions about your project? Do not hesitate and feel free to contact us via e-mail or telephone. You can also get in touch with us if you have any questions concerning grants.